Virtual JFK: vietnam if kennedy had lived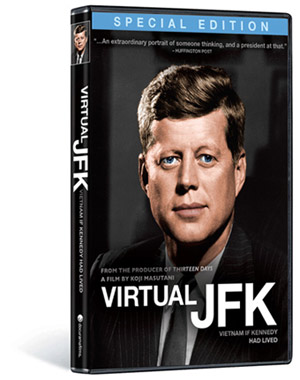 "A compelling and extremely unusual approach to a possible history."
— Atom Egoyan, Academy Award Nominated Director of THE SWEET HEREAFTER and CHLOE
"A prime example of the power of the documentary to expose truths and to enhance legends at one and the same time."
— Peter Howell, TORONTO STAR.
"A brilliantly-compiled masterwork about the foreign policy of John F. Kennedy."
— Chris Jancelewicz, AOL ENTERTAINMENT.
In the era of nuclear confrontation, John F. Kennedy attempted to prevent war six times during his short tenure as president. He didn't live to face a seventh. VIRTUAL JFK: VIETNAM IF KENNEDY HAD LIVED takes up one of America's controversial "what if" scenarios, examining the question: Would the U.S. have escalated the war in Vietnam if Kennedy was not assassinated in 1963? With insight and erudition, the film traces JFK's presidency -- a 1,000-day term plagued with tense political stand-offs -- through rare and previously-unseen archival footage, offering nuanced accounts of the former president's political decisions and, by extension, his probable response to the escalating conflict in Vietnam. Featuring unprecedented access into the leadership style of one of the nation's most important leaders, VIRTUAL JFK sheds new light on the man who helped avoid war in six crises and did not live to save America from the devastating war in Vietnam.
[ Order Special Edition DVD ] Order by Oct 31, 2015 to get FREE SHIPPING!